An unprecedented global pandemic ignites matters of life and death for thousands of individuals and the healthcare employees who navigate the front lines of the evolving medical landscape. Personal protection equipment (PPE) needs for healthcare heroes are soaring and the demands of the equipment are intensifying, alongside the variabilities of the pandemic itself.
The need for PPE—in quantity and quality—was so urgent in early 2020 that the Prime Minister of Canada, Justin Trudeau, made a request to all manufacturers in the country to consider how they could help.
Within two-and-a-half weeks, InnovaTools obtained their Health Canada Medical Device License and expedited research and development for a line of PPE that was not yet available on the market. Within one month, the company was shipping their latest innovation, Anti-Fog Reusable InnovaLife PPE Face Shield, under the name InnovaLife.
From Construction to Healthcare
Since their inception, InnovaTools has served the construction industry by designing and manufacturing specialty tools aimed to enhance productivity and profitability. Sheet metal brake accessories, the radius adjustable trowel and glue gun guides are examples of InnovaTools products.
So, how did they make the move from the construction industry to healthcare? By drawing on their "build-it-yourself and build-it-better" mindset.
"Most companies that stepped up to respond [to the Prime Minister's request] went with a traditional design: basic shield, foam strip on top and a fabric band on the back," said Alex Cloutier, president and inventor at InnovaTools. "We opted to go above and beyond and produce something more complicated."
And by "complicated," Cloutier is referring to a face shield that would be more eco-friendly and cost effective than the traditional face shields found on the market.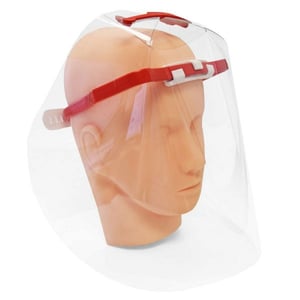 While most PPE face shields are designed for short-term use (to be changed out monthly or more frequently), InnovaTools set out to apply their ultra-innovation skills and create a shield that would last 36 times longer, or up to three years.
Anti-Fog Reusable InnovaLife PPE Face Shield, by InnovaLife, is the first of its kind on the market.
What Makes InnovaLife Face Shields Life-Changing?
Timeliness.
"There's nothing else like it on the market," explains Cloutier. Innovation rarely happens in isolation, and the Anti-Fog Reusable InnovaLife PPE Face Shield is no exception. From the beginning of the process, InnovaTools partnered with the Montfort Medical Research Institute to accommodate specific requirements. "This helped expedite the research and development process and is a key reason we were able to ship products within a month," explains Cloutier.
One-of-a-kind, reusable design.
The InnovaLife face shield wraps around the top of the head and behind the ears, protecting the inner ears from direct contact and allowing hot air to rise up and out.
Every component of the face shield is 100% washable and can be quickly and easily sanitized for multiple uses. The soft rubber straps on the back and soft rubber forehead cushion can be easily worn for extended periods of time. The components are 100% latex-free making it suitable for medical use.
Anti-fog crystal clear plastic.
The clear plastic lens is made from specialized anti-fog, crystal clear plastic recommended by T.O. Plastics. "One of the best plastics on the market," according to Cloutier. The clear material ensures there is no visual distortion. The shield comes apart easily and is replaceable.
Navigating the development process alongside InnovaTools, T.O. Plastics was able to accommodate design requests that were unique to the new product and ultimately, the only major adjustment needed was the thickness of the plastic.

When Great Minds Align
InnovaTools and T.O. Plastics are familiar with each other's expectations on innovation.
"We have another product in the development stage with T.O. Plastics," explains Cloutier. "They have always been open to listening to our complicated concepts. They take us seriously, even though we're a small company. They listen, propose solutions and come back with new ideas based on our feedback."
This out-of-the-box thinking, Cloutier explains, is critically important to the invention process. "We're always looking for innovative solutions versus creating products similar to other manufacturers. We focus on niche products … items unlike anything on the market.
And, Cloutier says that the approach to product design is instrumental to success. "It's common to have doors shut in your face in this business," says Cloutier. "It's uncharacteristic for organizations like T.O. Plastics to have constructive discussions, receive feedback, and try again."
Urgent Demand, Long-Term Solution
InnovaLife initially planned for Anti-Fog Reusable InnovaLife PPE Face Shields to sustain 25 uses. Since launching the product, they've learned that some of the original shields ordered are nearing 100 or more uses. The durability and reusability of the product is so essential that the company is working to offer a limited warranty on the parts (minus the clear shield which is available for individual sale).
Not only has the InnovaLife product helped to fulfill an urgent need within the Canadian medical community, the face shields are reaching international corners with a recent order from a medical clinic in the United Kingdom. Why would a company pay to ship the face shields that far? "There's nothing like it in Europe," says Cloutier.
Timely, one-of-a-kind, improved performance: that's true innovation.