In times of great need comes great opportunity. As we searched for ways to keep our employees safe and healthy during the COVID-19 pandemic we uncovered an opportunity to aid in the production of personal protective equipment.
---
In the beginning, we were assessing any and all tools and processes recommended by the CDC and others to stop the spread of the coronavirus. This included everything from hand washing, social distancing, remote working when possible, and eventually face masks and shields.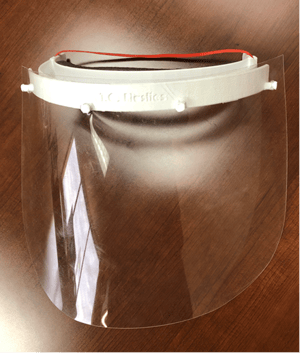 Backed by the data to support the effectiveness of face shields, our team quickly identified our capability to manufacture these within our four walls. In late March, Senior Design Engineer Jeffrey Siebert began researching and designing a shield that could be produced on our 3D printers. He developed two shields for testing. "Because of 3D-printing technology, we're able to print usable models in hours," said Kevin Kieke, Director of Engineering & Quality. "The typical tooling lead time to produce a prototype is seven to ten days, so we've been able to cut down our product development timeline to about a third of what it normally is."
"Our initial intent for this shield is to help support plant need—both within T.O. Plastics and throughout Ottertail Corporation," said Paul Meschke, President of T.O. Plastics.
Through this product design and production of face shields to serve our internal need, it quickly became clear that we could offer this capability to organizations focused on mass production of personal protective equipment that was in critical need, both in a medical setting but also for other organizations with needs similar to ours. T.O. Plastics Vice President of Sales, Don Jaeger, said, "We're using the capabilities we have to do what we can to fill a gap in a supply chain when PPE becomes scarce."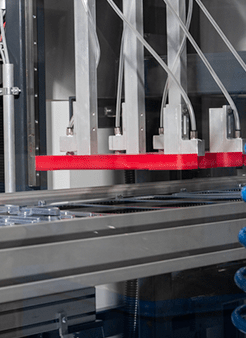 Our role in this production process is to cut the plastic of the face shield to spec, which gets sent to a customer for final assembly.
We're partnering on the design and have opened up production capacity to help the industry with high-quality, quick, cost-effective solutions for the COVID-19 response.
---
There is satisfaction in taking action; we are proud to support the health and safety of our communities in the best way we know how. We continue to look for opportunities to share this capability with those that need it, while also watching out for additional support we can provide with our talents and technology. If you have a need that aligns with either, please reach out: