CLEARWATER, MN – We're introducing out 2 quart 5.5'' square pot and accompanying carry tray, suitable for a wide range of horticulture applications, specifically designed for enhanced drainage. Both products feature design enhancements based on industry needs.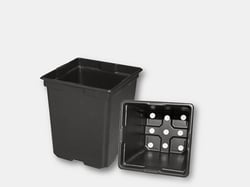 The large square plant pots have a 2-quart soil capacity, with nine bi-level drain holes strategically placed to aid drainage. Enhanced drainage was a specific concern among the growers interviewed while designing the new pots and carry trays.
We asked growers: how can we make a 2-quart pot better for you? They responded with two specific requests:
Better Drainage
Sturdy Tag Slot
#1: A 2-Quart 5.5" Pot + Carry Tray Engineered for Better Drainage
The greater soil capacity of larger pots retains moisture, which impedes plant growth. Excess moisture prevents oxygen from reaching plant roots, leading to poor plant health; this encourages root rot and other diseases that further prevent the plant from developing properly. To overcome those challenges, our product design engineers designed an array of raised and lowered drainage slots in the pots.
Taking this a step further, they incorporated significant advancements into the 2 quart, 5.5'' square pot carry trays. They built in a ridge along the inside bottom of the tray to allow the pots to sit above water as it drains out. Also, an increase in the height of the tray bottom and additional holes allow water to drain quickly from the tray as well, while allowing air to reach the plant pots and help the soil properly dry down.
The carry tray also features a raised divider down the center for added stability, to hold up to 35 pounds' worth of pots and soil. And, innovative automation grooves on the bottom of the tray allow growers to employ multi-tray handling.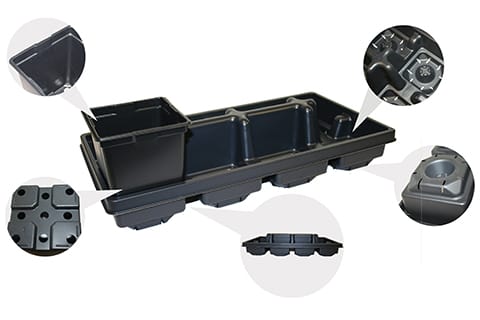 #2: A 2-Quart 5.5" Square Pot with a Sturdy Tag Slot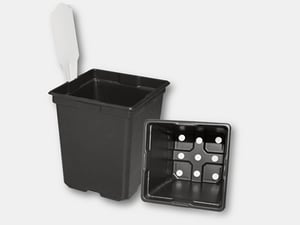 The growers' second request was for a sturdy tag slot to allow for efficient labeling and uniform alignment for merchandising. The inherent thinness of thermoformed plastics previously made creating an integrated slot difficult, but our engineering team found a way to solve that challenge.
Our 2 quart, 5.5'' square pot is one of the first thermoformed square pots to successfully incorporate an integrated tag slot on all four sides.
---
A Square Pot Designed with You in Mind
These new square plant pots were designed specifically for perennial and woody ornamental growers and berry producers; but they are well-suited for other uses in the greenhouse and nursery industries. The 2 quart, 5.5'' square pot appeals to a broad market.