A capable medical packaging solution is created by integrating a sterile barrier system with protective packaging. This is achieved through a combination of material selection and package design.
In this article we'll zero in on material selection, and start with the basics; we'll discuss the factors that play into your material selection, and then introduce some of the types of material you can consider for your package design. Then, at the end we'll guide you to a more detailed resource that provides a thorough overview of the listed materials.
The content of this blog was inspired and informed by Min Degruson's Med PackED 2.0 presentation, which you can preview below. Full length version also available to view.
Sterile Barrier + Protective Packaging
The make-up of a proficient medical package is a combination of a sterile barrier system and protective packaging - both of which serve a unique purpose in protecting and delivering your package to the end user undamaged and usable in a sterile field. ISO 11139:2018 defines them as follows:
Sterile Barrier System: "minimum package that minimizes the risk of ingress of microorganisms and allows aseptic presentation of the sterile contents at the point of use."
Protective Packaging: "configuration of materials designed to prevent damage to the sterile barrier system and its contents from the time of their assembly until the point of use."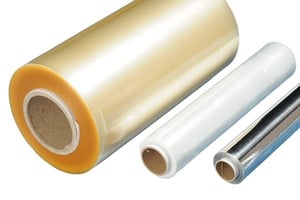 During package development, there's a balancing act that happens between the material that meets your sterile barrier needs and the protective package design. The design (and associated manufacturing process) can guide the material selection to an extent, and the material can dictate the design as well. So, as you journey through medical package development, it's important to know your material options and their specifications.
Material Selection Influencers
As mentioned above, your package design and manufacturing process will influence your material selection. But that's not all; your medical device and the required sterilization process need to be taken into account as well. The material you select needs to accommodate each of these three influencers in order to make it into the market successfully.
#1: Package Design & Process
Each of these three influencers affect one another, so your package design will also take into account the medical device and sterilization needs. But, in terms of material selection, your choice will need to suit the planned footprint, configuration, and manufacturing process defined in the design of a package that can safely hold, transport, and store your medical device.
#2: Medical Device
Variables such as intended use, storage requirements, transportation methods, expiry dates and more specific to your medical device play into the packaging decisions, including material selection.
#3: Sterilization Process
And last, but certainly not least is the sterilization method that will be used. The most common processes include Ethylyne Oxide (EO), radiation, and steam - and your chosen material needs to be able to withstand the process and maintain sterility for your intended shelf life.
Standard Material Categories
Keeping all of this in mind, you can choose a material (or combination of), among the following options.
Medical Grade Paper

Coated (with adhesives)
Uncoated

Nonwoven Materials
A sheet of fibers or continuous filaments that have been formed into a web and bonded together.
Plastic Materials:


Films (Single or Multi Layer)
Multi layer structures are achieved by laminating multiple layers, of the same or different, plastics together to achieve required properties.
Film with Foil Lamination (Multi Layer)
Rigid Sheet (Single Layer)
This is a single layer film at a thickness greater than 10 mil
Each material is suited for different circumstances; to dive into the details for further understanding, watch this recorded presentation from Med PackED 2.0. Min DeGruson, Associate Professor of Packaging at UW Stout walks through each of these materials with great specificity to outline the strengths, weaknesses, and value propositions of each.