As you drive home, how many of your neighbors do you know by name? Do you know what they do for work? How many kids they have? How they came to live in your neighborhood?
In today's day-and-age, technology makes it possible to connect with people all around the world - but it can also cause us to become short-sighted and miss what's right in our backyard.
The same applies to companies. What great products and organizations might you be missing in your life because it's easier to pull your phone out of your pocket and order online rather than 'seeing' and supporting your neighbors?
One of our neighbors is BluDot. We drive past their distribution warehouse every day. Who is BlueDot? What do they do? These used to be questions without answers - until now.
BluDot: A Minnesota Made Furniture Design & Retail Company
In the Land of 10,000 Makes lives a company that was built the 'old-fashioned' way.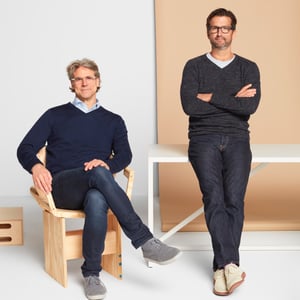 Using their own money, Maurice Blanks, John Christakos, and Charlie Lazor put in the hard work to build BluDot. Established in the late 90's - before the days of IKEA and the likes - this team of college friends reunited to design furniture they liked, at prices they could afford. Powered by a passion for design, a longing to do what they loved, a desire for affordable furniture, a willingness to do the hard work, and the humility required to learn lessons along the way, this creative team brought BluDot to life.
With a set of furniture designs and order forms they printed on the way, these two- architects-and-one-sculptor-turned-entrepreneurs headed into their first trade show in 1997. The BluDot ball started rolling, and hasn't stopped. Early partnerships with Target and Crate & Barrel affirmed their purpose to bring affordable furniture to as many people as possible. 20+ years later they have eight retail locations, 150+ employees, a finite library of modern furniture designs, and a time-tested commitment to quality furniture without attitude.
Retail Locations


True to their design roots, BluDot created each retail store unique to it's city while retaining the BluDot experience. For each store design they worked with a local architect, and they got to become the client of great design. Find a store near you to check out in person, or take a look at this virtual tour of the Portland location.
Job Opportunities
Their customer-centered collaboration starts with product designers, where they are focused on providing "useful, affordable, and desirable" products. This approach carries through to the final customer service touch points, where real-life humans answer to phone to support the shopping experience.

Modern Furniture


While today's selection is more than the initial 12 pieces they brought to their first tradeshow, it is a finite product line because each piece of furniture is designed to endure. They are focused on iconic products, not the flavor of the season.

Approachable, Quality Product


Not only is their product designed for affordability, but approach-ability too. BluDot set out to drop the 'hoity-toity' attitude of furniture designers, and make the world of furniture fun. By adding humor into their advertising, and accepting visitation rights to a tree in exchange for a BluDot bench (via their Swap Meets), BluDot is well on it's way to shaking up the industry.
All of this was made right here in Minnesota.
"Minnesota Just Made Sense"
In an interview with 2modern, founder Maurice Blanks said, "Minnesota just made sense" for their design studio / headquarters. Have truer words ever been spoken?
In the early days, each of the founders was in a different part of the country, maintaining their jobs while building BluDot. When it came time to go all-in, Minneapolis became home base because they had established a distribution center here, and John Christakos, the first to take on BluDot full time, was located in Minnesota.
What they might also refer to as 'a happy accident', Minneapolis remains the place where all the design happens. Firstly, being separated from "the heat of the design battle" is an advantage in their eyes, as it allows them to focus on their purpose and style. As an added bonus from the business perspective, Minnesota is an accessible location to the entire country, which serves BluDot well from the eCommerce and retail distribution standpoint.
Good Things Take Time
As they say, slow and steady wins the race - and this is how BluDot has built their success. BluDot is an inspiring entrepreneurial story - an American Dream come to life in the Land of 10,000 Makes. The founding team put in their own money to fund their idea and passion, and continued to reinvest as they learned and scaled. With change as the only constant in life and business, they've adjusted to leadership evolutions, industry changes, market fluctuations, and more - all while staying true to their original goal: to bring good design to as many people as possible.
BluDot is proof that good things both take time and stand the test of time.
As a supportive neighbor and of Minnesota-made success, we're giving away 3 BluDot 100% Trays. Enter to win here:
---
Follow along with us as we continue to explore the companies and products in our backyard: